"Little Ambassadors" Offered Overflow Rooms for the Ambassador Hotel
The buildings at 435 and 441 Knickerbocker were referred to by neighborhood residents as the "Little Ambassadors" or the "Little Knickerbockers." Actually,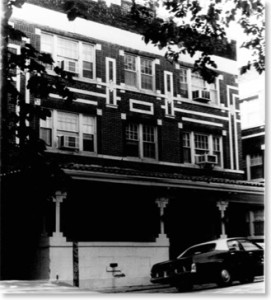 they are called Ambassador A and Ambassador B, according to the nomination form that led to their inclusion on the National Register of Historic Places. Kansas City architect Nelle Peters designed the Ambassador Hotel at 3600 Broadway for Barney Goodman and Charles Phillips. Peters also designed the Ambassador A and B in 1924 to accommodate overflow from the big hotel and provide additional income.
The Little Ambassadors were remodeled in the 1950's and most of the original decor was removed. They were turned into studio apartments. The buildings deteriorated and invited criminal activity. In 2011, the City of Kansas City declared the two properties to be dangerous buildings. Kansas City Life purchased the buildings and demolished them in early 2012.