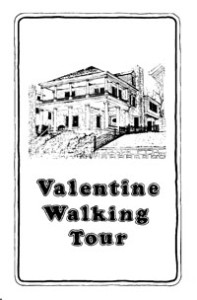 Award winning artist, Mark L. Moseman, co-created the Valentine Walking Tour booklet when he was a Kansas City urban designer and a Valentine resident. His former home is featured on the cover.
The design and inside drawings were created by Patricia Brown, also a former Valentine resident.
Mark and Pat created the booklet in 1980. It was revised in 1983 and 1990. It features many of the historic homes and buildings in the Valentine neighborhood.
The 1983 version can be found here.