Kansas City, Missouri residents recently passed the GO Bonds to help pay for sidewalk issues in neighborhoods. From the city's website: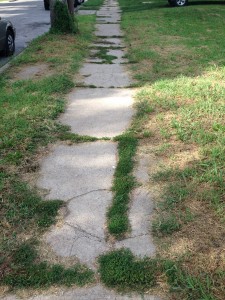 "Question No. 1 on the ballot called for approval of the issuance of $600 million in bonds to repair streets, bridges and sidewalks. One of the major selling points for residents was the promise to create a city-funded sidewalk repair program that would eliminate homeowner assessments. To that end, some $150 million is being dedicated to sidewalks.
This is a complete change in the way the City repairs sidewalks. The bonds create the revenue needed to allow the City to pay for residential sidewalk repairs, rather than charging homeowners. This program is going to systematically evaluate, repair and replace sidewalks. The goal is to make it through two citywide cycles over 20 years.
Before the General Obligation bonds, our residents basically paid for the spot repair sidewalk program. To streamline the process and, in fairness to those who will pay the new tax, the City forgave any outstanding assessments before the April vote. The City's systematic sidewalk inspections began in concert with construction of a shovel-ready backlog of spot repairs."
To learn more, visit GO KC Sidewalks.