Here are some reminders from our friends on the Broadway Westport Council regarding St. Patrick's Day events:
"Broadway Area Friends and Neighbors…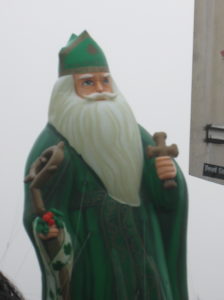 It is time for the 47th Annual Kansas City St. Patrick's Day Parade! This event provides a great opportunity for positive recognition of the Broadway Westport area and a fun opportunity for everyone who lives or works on or near Broadway to watch the parade from our own offices and stores and properties – and this year's parade is on a Sunday – so you won't have to "play hooky" from work or school!! Below is the information you will need to know about scheduling, street closures and access, parking, etc. on St. Patrick's Day.
This year's St. Patrick's Day Parade theme is "SHAMROCKS & SHENANIGANS". The Grand Marshal this year is Eric Stonestreet. Eric is best known for portraying Cameron Tucker in the ABC mockumentary sitcom "Modern Family," for which he received two Emmy Awards for Outstanding Supporting Actor in a Comedy Series. Eric is originally from Kansas City, Kansas and is an avid supporter of our own Children's Mercy Hospital here in Kansas City.
This year's parade is on SUNDAY, MARCH 17th and the parade staging, start, route and plans are the same as in past years. The parade will begin at 11:00 a.m. at Broadway & Linwood and march south down Broadway to 43rd Street. The staging areas will once again include Broadway from 31st Street to Linwood, Linwood west of Broadway to Pennsylvania and 33rd Street east of Broadway to Main Street. Those streets will also be the first to close – KCPD Traffic Officers will begin closing those staging area streets at approx. 7:30 a.m. on parade morning, and parade entrants will begin arriving about 8:00 a.m. to line up in the staging areas. These staging areas will remain closed until the last group heads down Broadway at approx. 1:30 p.m.
At approx. 8:00-9:00 a.m., KCPD officers will begin closing ALL of Broadway between 31st Street and 43rd Street, as well as "cross streets" approx. 1 block east and west of Broadway in order to keep traffic from getting to Broadway where cars will be blocked when they reach Broadway. KCPD will reopen Broadway and cross streets as soon as possible after the parade passes each block and the clean-up crews clear each intersection from north to south…by approximately 1:30-2:00 p.m. During the parade, no traffic will be allowed in the staging areas, or on the parade route other than KCPD, Parade Staff and emergency vehicles.
Information to remember to remember and consider…
1) Parked Cars on Broadway – "No Parking" signs will be erected along the parade route and staging areas on FRIDAY, MARCH 15th – actually 2 days prior to the parade. KC Ordinance calls for temporary no parking signs to be in place at least 24 hours before the "no parking" is to become effective, and the No Parking along the parade route and the staging areas will become effective at 3:00-4:00 a.m. on Sunday, March 17th, so these signs must be up by Friday afternoon. The no parking signs will say ""No Parking on March 17th". Even though the "no parking" signs are up on March 15th, parking on Broadway and the staging areas will be available as normal until the wee hours of the morning on March 17th. Be sure to inform your employees, customers, guests, friends and others to get their vehicles moved off of Broadway, Linwood and 33rd Streets before 3:00 a.m. on March 17th as ALL VEHICLES parked there after that time will be SUBJECT TO BEING TOWED. Street cleaning equipment will arrive during the early morning hours to "pre-clean" the street, curb to curb, for the parade. KCPD will attempt to find vehicle owners before towing, but the best and safest way to keep from having a problem is to have NO CARS PARKED ON BROADWAY AND THE STAGING AREAS AFTER 3:00 A.M. (at the latest!!!) ON PARADE MORNING!
2) Parade Parking – Lots of parade revelers mean lots of cars to be parked…and there are a number of locations that have announced they will have parking available for a charge. Be sure to note where to enter these lots – as noted, KCPD will close the streets between Broadway and one block east and west. Representatives from these lots will be at those intersections to work with the police officers to allow parkers past the barriers and to let KCPD know when these lots are full.
– Citizens of the World Kansas City School Parking Lots – The school is located on the east side of 34th & Broadway. There will be 48 spots available, including 3 handicapped spots, for a charge of $15 per spot (cash only). The lot will open at 8:30 a.m. Cars can enter the lot off of Central Street between 34th & Armour. Cars will exit the lot on to Armour. All funds will benefit the school.
– Uptown Arts Bar – Offered as "St. Patrick's Day 2019 Park & Party at the Parade". Entrance will be from 36th & Central – 100 spots will be available; the charge will be $20 per car. The lot will be open at 9:00 a.m. The Arts Bar has a Facebook event page with more information: https://www.facebook.com/events/828888980801892 (I tried this link and it works!!). You can pre-purchase your parking tickets on this site (before 6:00 p.m. on Saturday evening, 3/16) to be sure a spot will be waiting for you – or pay in cash when you arrive. There is also more info on this site about fun events happening at the this site.
– Midcontinent Community College lots
– Valentine Shoppes Lot on Broadway & Valentine (reachable from Pennsylvania & Valentine).
– Redemptorist – We have not heard from Redemptorist, but assuming the parking has not changed since last year, parking in the East Lot accessible from Wyandotte Street has been $15. And parking in the South lot which can be accessed from 34th Street has been $20. There has also been a row of parking spaces available along the Broadway parade route in the south lot – the charge has been $25 for an advance reservation for the purpose of "tailgating" during the parade. There are about 10 spaces for this, first-come, first-serve "park and view" opportunity.
– We hear the (former) MGE (Missouri Gas Energy) lot on 34th & Washington will be available for a fee.
The Parade Committee publishes parking information on their website and we are hopeful the Kansas City Star and Pitch will publish parking availability also. The Parade Committee is very appreciative of parking spaces made available and encourages you to charge for this most valuable real estate on parade day.
ALSO…parking availability is included on the map of the parade route on the St. Patrick's Day Parade website:
www.kcirishparade.com.
The one requirement is that if your parking area is within the area that is one block east or west of Broadway, someone representing that parking lot must be stationed at the intersection where parkers will be turning toward Broadway, along with the assigned KCPD traffic officers to advise the officers when a parking customer needs to be allowed past the police barricades.
3) Staging and Parade Area Access on Parade Day – Those who will need access to Broadway between 31st & Linwood or Linwood/33rd Street between Main Street and Pennsylvania after 7:00 a.m. on parade day or who must use Broadway or have access to employee parking within one block of Broadway on the east and west after about 8:00 a.m. until the end of the parade at approx. 2:00 p.m., will need a Merchant Access Pass to get beyond police barriers. Let us know (via contact info listed at the bottom of this page) the number of street passes you will need and we will arrange for you to pick them up or we will get them to you. Please keep in mind it is important that traffic is very limited in the general parade area in order to reduce the risk of accidents because of the huge amount of foot and auto traffic with so many parade participants and attendees – so please plan for ways to keep the "comings and goings" to a minimum during the parade and pre-parade hours on St. Patrick's Day!
REMEMBER, St. Patrick's Day happens only ONCE EACH YEAR – so on that day, the best plan for "the Broadway Westport Clan" is to arrive at your destination very early on parade morning with plans to stay put for the day – perhaps you and your friends and families and co-workers can bring some great breakfast and lunch dishes to share and have your own St. Patrick's Day celebrations while enjoying a great place to park and a vantage point from which to watch the parade from your own properties!! Keep in mind that BROADWAY from Linwood to 43rd Street will be CLOSED at approx. 8:00 a.m. for EVERYONE until the parade is over. So find your best vantage point, sit tight and enjoy the parade!!
4) Private Parking Areas To Remain Private – If you do not want to share your private parking areas with parade goers, be sure to make plans to put up some type of barrier at your parking lot or garage entrance – because if you don't block it, they will use it – don't depend on "signs!" A good way to block parking entrances is by parking one or two cars crosswise in front of your entrance.
5) Porta Potties and Public Access – Porta Potties will be placed along Broadway (hopefully just around the corners to avoid utilizing valuable viewing space) sometime on Thursday or early Friday morning from the staging areas to 43rd Street and will be picked up after the parade is over. If you do not have public restrooms available in your building, you might want to lock or monitor the access doors to your property as parade goers begin to arrive. Some property owners place signs on their exterior doors to inform parade goers that there are no public restrooms available – but when you gotta go, you gotta go…so make sure those doors are also kept locked. Keep in mind you will need to decide how you will handle public access to your building on parade day!
6) People are Messy – and lots of people are VERY MESSY – Since this year's parade is on Sunday and since we have had some really cold days this winter, people are itching to get outside and enjoy! My weather app tells me it will be mostly sunny and 46 degrees on Parade Day…While that is "below normal," it IS much more seasonal than we have had over the past month…so, lots of people might decide to head to Broadway to enjoy this year's parade!!! And yes, there will be trash generated. The Parade Committee will place trash cans at strategic locations to allow parade goers to deposit their trash appropriately. We get questions each year as to whether these trash cans can be emptied periodically during the parade event…and the answer is: Sorry, but there is just no way to get trash crews through the crowds to Broadway to handle trash during the parade." So, the final entrant at the tail end of the parade is a cleanup crew who will clean the trash from the street and sidewalks using vacuums and blowers. You might want to bring some trash bags to clean up the sidewalk and landscaped areas in front of your building after the parade for any trash that might be missed.
I know, I know, "they made the mess, how come they don't have to clean it up?" Because when you have a party, do you ask your guests to clean up after themselves? We need everyone to help clean up after our "guests" when they visit us once each year!
Remember to share in the excitement and enjoyment of this annual event – IT IS A CELEBRATION!! Let's all work together to welcome the parade, its participants and attendees to Broadway and Westport! CONSIDER MAKING WELCOME BANNERS AND SIGNS FOR THE PARADE PARTICIPANTS AS THEY MARCH (AND RIDE) PAST YOUR PROPERTY!! The Parade Committee has reiterated its total commitment to making the Kansas City St. Patrick's Day Parade a fun and family-oriented event – and we can all participate in that endeavor!! …and most importantly…ENJOY THIS 47TH ANNUAL KANSAS CITY ST. PATRICK'S DAY PARADE!"