Valentine is pleased to offer our residents several different opportunities to meet the candidates for the upcoming city council primary election. Here are the latest details on which candidates will be attending each forum. See the details below.
March 21, 2023, 6:30-8:30 p.m.: Midtown Neighborhoods Candidate Forum, Plexpod Westport Commons, 300 E 39th Street. Candidates will answer questions from a moderator and the audience.

March 22, 6-8 p.m.: Coleman Highlands, Roanoke, Volker and Valentine Candidate Open House,  Roanoke Community Center.

March 23, 5-7 p.m.: Westport Regional Business League Meet the Candidates night.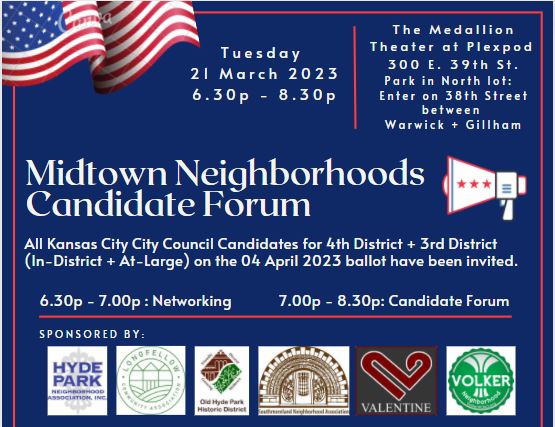 _______________________________________________________________________
March 23 Candidate Forum at Westport Roanoke Community Center
Confirmed Candidates
Kevin O'Neill (1st)
Ronda Smith (1st)
Pam Mason (1st)
Lindsay French (2nd)
Jenay Manley (2nd)
Mickey Younghanz (2nd)
Melissa Patterson Hazley (3rd)
Justin Short (4th)
Jessica Blubaugh (4th)
John DiCapo (4th)
Darrell Curls (5th), will be late
Michael Kelley (5th), sending stand-in
Andrea Bough (6th)
Jill Sasse (6th)
Eric Bunch
Crissy Dastrup
Henry Rizzo
________________________________________________________________________________