Valentine cannot endorse candidates for elected office, but we encourage all of our residents to get educated about candidates and vote in elections, including the upcoming April primary and June city elections that will seat a new city council. We are fortunate to be partnering with several groups that are hosting candidate forums this year. This gives our members several possible dates and times to learn who is on the ballot and decide who they would like to support.

Here are the candidate forums Valentine is helping to sponsor: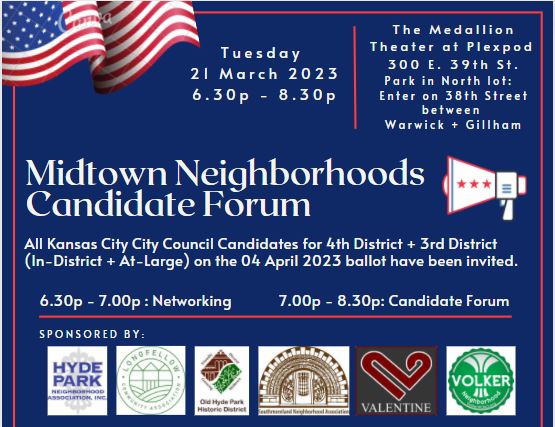 Midtown Neighborhoods Candidate Forum: March 21, 2023, 6:30 to 8:30 p.m. Plexpod Westport Commons, 300 E 39th Street. The Hyde Park Neighborhood Association, Old Hyde Park Historic District, Longfellow Community Association, Southmoreland Neighborhood Association, and Valentine Neighborhood Association are partnering for this event. All candidates for 4th District (in District and At Large) on the April 4, 2023 ballot are invited to attend. (Note: Valentine is in the 4th District. Valentine residents will be voting for 4th District in-district candidates and all of the at-large candidates). Angie Splittgerber, president of the Hyde Park Neighborhood Association, will serve as moderator. Networking begins at 6:30 and the forum stars at 7 p.m. 
Coleman Highlands, Roanoke, Volker and Valentine Candidate Open House: March 22, 6-8 p.m. Roanoke Community Center. This open house is being held on the same night as our March general meeting, but you can still attend both if you arrive early at the open house.
Westport Regional Business League "Meet the Candidates" Night: March 23, 5 to 7 p.m., various locations in Westport. This Westport event, sponsored by the Valentine, Heart of Westport, Plaza Westport Neighborhood Associations and the Westport Regional Business League, will offer voters a chance to have small-group conversations with candidates at about two dozen Westport business locations. Candidates from the 4th and 6th Districts are being invited to attend. A single candidate will be at each location, and participants can visit each to talk to the candidates about what issues are important to them and their neighborhood.
Additional details about all these events will be coming.